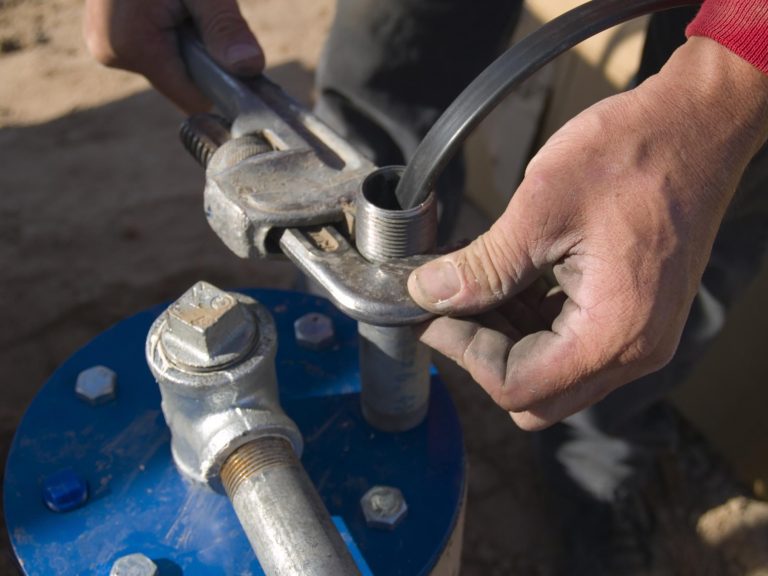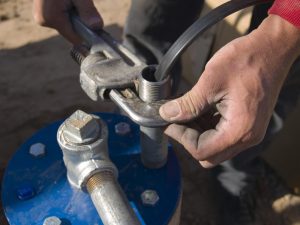 If you are experiencing a problem with a leaky well, then give our professional well repair contractors Albemarle NC a call. As with any water source, a well can pose some problems from time to time, especially if you are not having any maintenance performed or repairs made on a regular basis.
One problem that may go undetected is a leaky well casing. When this happens, groundwater contaminants may get inside and cause contamination issues, posing a risk to your health and your well water system. If your well casing leaks water, you will notice a reduction in the way the water flows, as well as debris, dirt, and sand in the water. To repair a water-leaking well, we'll usually have to use a suitable sleeve.
WELL WATER LEAK REPAIR | USING A SLEEVE
At Well Doctor LLC, our professional well repair service contractors use the appropriate sleeve to repair a plumbing leak. Different methods may be needed depending on the various types of sleeves that are available. The repair sleeve is used to fix the precise spot where minor leaks are coming from. It's especially important to address this problem if the leak occurs at the surface of the well, where oxygen and water can cause corrosion and contaminate the well water.
WHY HIRE AN EXPERT FOR WELL WATER LEAK REPAIR?
You should never attempt to replace a well casing yourself. There may be tools and equipment needed that the average person does not possess. Once a detailed diagnosis of the problem has been made and the cause of the leak has been identified, it can be repaired.
In most cases, it is difficult for someone who is not experienced with well leaks to identify the problem, let alone repair it. That is why it is in your best interest to rely on a qualified professional with the required certifications and skills to handle the job. You can also reach out to us with regard to septic tank leak repair too.
COMMON SIGNS OF WELL WATER LEAK
If you had a water well leak, the issue would probably not be obvious. You would need to replace the well and perform repairs to any other issues within it in order to ensure that it's properly working.
If you want to keep your well system in tip-top shape, regular professional inspections are a must. Learn how to spot the signs of a water well leak!
Low Water Pressure
A decrease in your water flow rate may be an indicator of a leak. This indicates the cause might be water well problems, like a clogged pipe or reduced water flow. If you've already noticed this concern, it's best to check the pressure tank, water pump controls, or the pressure switch. This way, you can see if there is anything that could make things worse with your household appliances or devices like sprinklers.
Debris in the Water Pipes
If you suddenly see debris or dirt in your water supply, then you have a well leak. Well leaks can affect the purity and quality of your water. This is important because contaminants can enter the system during this time and cause problems for your plumbing and electrical systems if left unchecked. An expert from your area will be able to quickly repair the filter and prevent any further issues.
You Need to Change Your Water Filter More Often
When you start needing replacements less frequently, your well system may be leaking. This makes the filter work harder and will make it wear down faster. It is important to hire a professional contractor & manage the leak in your home before it becomes too big of an issue. You will be spending less money this way and getting the job done ASAP.
HOW A WELL WATER LEAK CAN CAUSE VARIOUS PROBLEMS
Well piping leaks vs well casing leaks: Pipe coming from the well, which extends to the building, can split or break and cause a leak in the house. These types of problems need to be diagnosed as soon as problems arise so that all repairs are done correctly and quickly.
For well casing leaks: Many times, wells will have problems due to a leak or cracks in the pipe that lines the well. It's important to have a way to stop leaks as soon as they're discovered so that you don't produce any excess pollution in your water supply.
Well pumps and their piping are usually fitted with a valve that is used to let water in or out. If the piping system is leaking water, it can be possible that the valve is leaking or may simply not be closed all the way sometimes when it's not pumping properly.
If you notice wet grass in certain areas close to your well piping, this could mean that the soil is actually near the pipe and not under it. The prevalent idea that leaking soil would be below pipe can lead to further problems, such as sink holes, possibly leading you to take action sooner rather than later.
Your well or central heating system may be running more often, and you may be using more "apparent" water.
It sounds like there was a burst water supply pipe in your lawn. The geyser and "water fountain" sounds are examples of how much water can come out from a burst pipe. It may have been coming from private wells or municipal water lines.
Why Hire Well Doctor LLC?
We have all that is needed to effectively handle any of your well leaks. There are areas of the well that are known to leak more often than others. Our qualified contractors are able to effectively fix any leaks, no matter where they are found. Our water well repair services are preferred to many others in Charlotte because we are thorough in all that we do.
Having over 25 years of industry experience and training, our professional well leak repair experts know exactly how to handle such a problem. There is never a reason for you to try to handle it on your own. If you lack the experience and qualifications, you could end up doing more damage. Instead, rely on our qualified technicians at Well Doctor LLC for any water well leak repairs.
We are a small, family owned and operated local well pump repair business, and we pride ourselves on treating our customers like family.
Ask about our discounts for teachers, veterans, senior citizens and first responders!